Whilst not pretty it's hard to deny England have made huge strides since the Summer Series.
Improved discipline, fitness levels seem to be there or there about and defence has become as miserly as you could want conceding a sum total of 18 points in the two world cup matches against Tier One opposition to date.
But, whilst all of the above might be true it remains to be seen if they can elevate their attack to similar levels. Favouring a kicking strategy over flamboyant edge to edge attack is fine, but it's going to get you criticised and at some point you just need more from the team.
The reality is, Attack is by far the most complex part of any teams development.
Defence is relatively simple in comparison and it's easier to get teams performing in the trenches with a strong sense of collectiveness.
In attack you're balancing the collective approach with the individuals instincts and while structure will get you so far it becomes predictable and relatively quickly. Reaction a far more important element in both reading the defender and reading what your own team is doing and how you are impacting the attacking structure.
All that said there are signs in England's play that they will attack with ball in hand when the opportunity arises but we also can't ignore there are some very obvious issues, some of which are personnel driven but the impact is obvious.
The two most obvious issues are how lateral England's attack is with the ball in hand (especially off Set piece) and also how difficult they are finding it to implement a multilayered attack, Ford and Daly the only two obvious distributors in the backline.
To be clear we're talking about lateral movement collectively not individuals running laterally.
The cause of that is interesting.
In the opening match vs Argentine we got a great look at the issue and in Japan we saw continuity of that but also got a good look at how they really want to attack.
LATERAL vs ARGENTINA
Here in the opening game of the pool we see England attacking from a turnover ball.
Argentina box kick and Steward rose to claim the ball, which is where we join.
As England recycles we see the first problem is how slow to get into formation they are.
Itoje, having tried to charge down the kick, is very slow to get back onside and the knock on effect is there is no second unit for the backs to play behind.
That slow reload means neither Itoje or Earl are genuine options in attack and England have very little secondary options for Ford if they play out the back, which of course in the expectation of structure they do.
Argentina only have to offer a cursory hold as England plays behind and the impact is that instead of coming around the corner and straightening Daly and Tuilagi travel laterally and drag the Argentine defence across.
England want to preserve space on that far side which is why Marchant then straightens and stays on the 15 but that earlier lateral movement has already done the damage and brought Argentina across.
It's great hassling work from Argentina and they are then able to defend 3 rucks with only two players allowing them to set their defence.
One phase in field and Mitchell immediately looks to come back to the short side where England should have generated a numbers miss match in the 15m channel but again the slow reload this time from Marchant disrupts their impact.
In fairness it's a poor read from Carreras looking to drop back for the kick and thrown a bone May and Marchant actually do very well to get to the edge and make ground.
On the front foot England tried to generate speed as well as maintain any momentum by punching into the middle with Genge. Unfortunately Itoje gets the clear out wrong targeting Montoya instead of being patient and clearing Matera.
Which leaves George as the only support and Matera one of the best in the game is on the ball in a flash, turning it over.
Argentina kick to relieve pressure and claim a lovely 50-22.
Frustratingly as the shot pans out we can see England have managed to get into a good shape with Ford leading and multiple runners to choose from.
In total England have run through 6 rucks and made 8 passes for a gain of about 5m before losing 45m to turn over.
Lateral attack is problematic in attack for a number of reasons.
The first is it takes all the speed away from the attack. By going to the far edge on the 1st phase the intention is to make Argentina track across to get set off the ruck.
That does a few things:
One creates spacing in the defensive line whilst they reset, if on the front foot you attack those spacings.
Sorts the players by speed:

By taking it to the edge you bring the outside backs into the contact area, sorts the defence into fastest closest to or in the ruck speed and that aside from speedsters on the edge you ideally will be attacking back against forwards.
The second is it's mostly operating in negative space.
Operating behind the gain line gives the opposition space and that in turn impacts the speed of your attack. Players may be heading backwards to get to the ruck losing impetus and the pace you bring coming forward is countered by the opposition also moving forward and often players are left isolated, cut off from their support by defenders.
A few minutes earlier we saw similar issues.
England attacked blind from a scrum and kept momentum going but as a result of that both Mitchell and Ford are dragged into the ruck.
This forces England into a narrow formation and to allow time to reset England run a Zig Zag attack.
As England recycle another phase left England try to adopt a 3-2-1 shape, Daly and Marchant sitting behind as a second layer.
But we can also see how late Genge is to get into position to make the 2 with Tuilagi. This means he's not really a viable option and that in turn forces Ford to pass early and deep.
It's easy to criticise Genge here but the truth is the previous ruck is so deep and behind where Genge has just carried he's reloaded a good 20m behind the last but one ruck.
Also note how far apart Genge and Daly are when the pass comes.
For this kind of passing motion it is better to be much closer or see the defence can sit back and read what's happening.
Instead of holding the midfield defence and preserving space England again travel laterally to get outside the defence dragging them with them and Earl is forced into kicking.
It's a frustrating but good decision by Earl, they've lost momentum and are largely outnumbered. So it's better to reset further up the field and attack Argentinas line-out than give them a chance to attack their ball.
LATERAL VS JAPAN
We again saw this lateral movement in the Japan game.
From the kick off Japan box kick and we see Steward come forward with Daly moving to the 15 position. Marchant moves immediately to the near touch line replacing Daly leaving others to fill the midfield.
England are prioritising width in attack.
England recycle and we see a good shape off 9, with Ford in the boot, but again we see a very slow wider reload this time from Chessum who reloads late and wide having looked to charge the kick.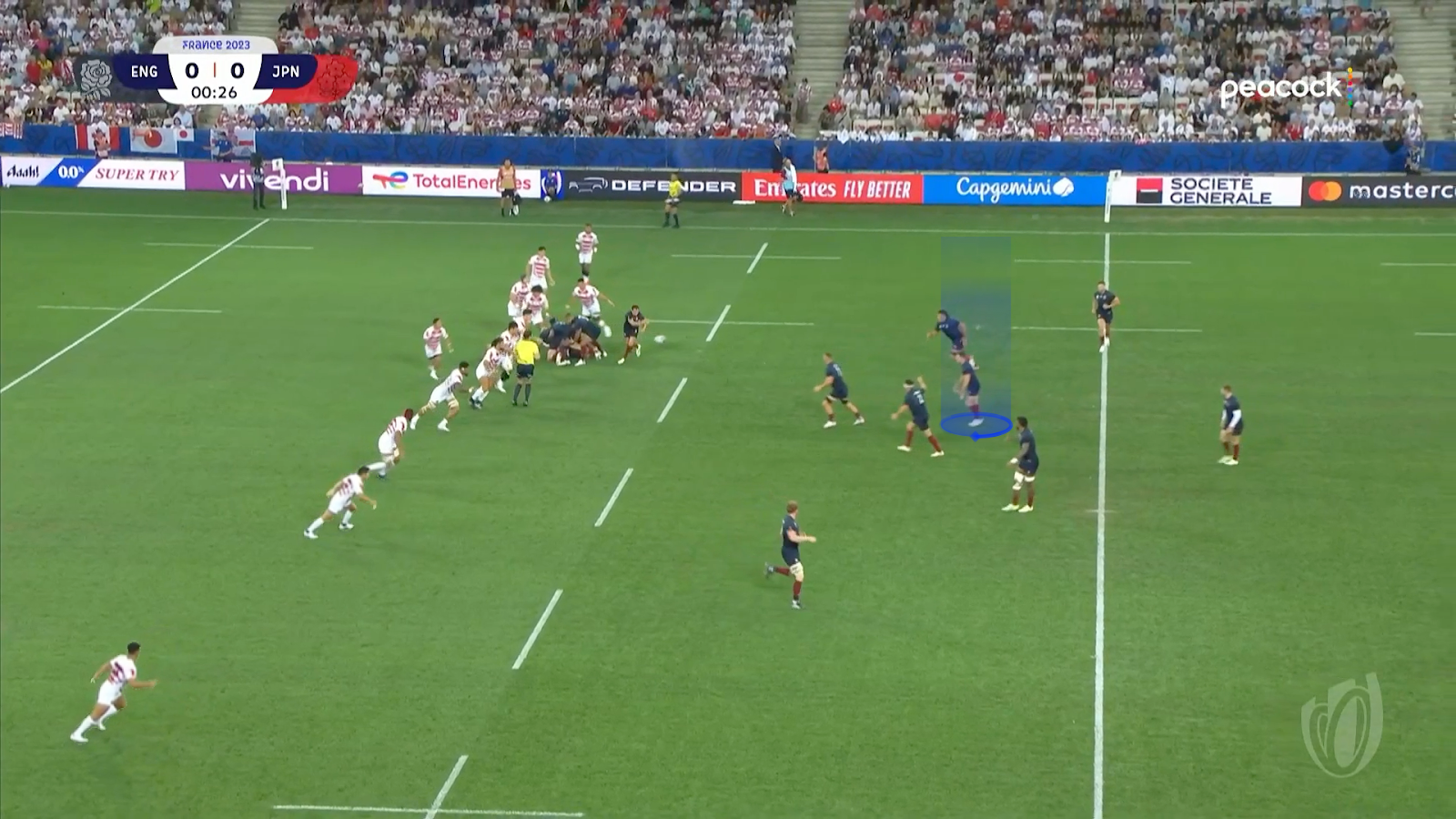 There is a lot of space in the Japanese defence and this is ideally what England want to attack.
But from the reverse angle we can see Daly's running line allows Japan to back off and the end result is rather than preserving space it closes it and again rather than ship on bad ball Daly probes the 22 with a kick.
As with Earls kick vs Argentina it's the right option for an attack travelling sideways with no momentum and with players becoming isolated by that lateral movement.
If there is a frustration to be had here it's that England are slow to react to opportunities earlier in the sequence and as a result are faced with only kicking options.
Whilst these are some examples of poor attack it's not all bad news though and I think the key to England's attack is how they work the short side and in both games England fired some shots.
THE BLOSSOMS OF SPRING
We saw them work it against Argentina at the start of this article and here we see them get rewarded vs Japan.
England Exit and Steward fields the return.
England immediately dropped back to the short side and the quick close nature of the passing gets them around the edge of the Japanese defence, Daly probably should have done better but this is a good attack and something England will probably try to build on over the next few games.
England are also improving their transitional attack. Lawes try despite the comical endings is a actually relatively well constructed.
Steward again claims the high ball and England drop into 4-2-1 formation, with both Ford and Daly in the boot of the 4 and 2 respectively.
Also something worth noting here is how slow and wide Chessum is on the reload having attempted a charge down on the exit kick.
Something we saw with Itoje on the first clip against Argentina.
This is an issue because when England Recycle, and Ford Scans the defence Chessume is still offside.
So even though he, Chessum, is onside when they play Ford likely uses Lawes short and excludes Daly out the back because of this.
The second thing that does is give Chessum a poor clean out angle and he's ineffective at the ruck having to roll the Japanese player laterally.
Which in Turn Takes Chessum to ground and… you guessed it makes him late to the next phase.
And while this doesn't look a problem as England have good shape, with both Chessum and Lawes realigning so late it removes this second shape, Stewart and Itoje as real options.
Ford has to play the long pass to Daly again which allows Japan to swim past the front line.
Daly does well to get past Chessum and beat the press with a pass to find Steward who feeds Earl and England are off.
Something worth noting here is the incredible work from Nakamura to get back and cut down Earl and then reload and lead the counter ruck.
One phase on we get the comical header pass, but what is clear here is that there is no obvious shape off 10 and Ford just picks a runner with Stewart not quite prepared to carry; he snatches at it and the ball skims through his grasp bouncing of Marler's head.
It's the most comical of endings to an attack that functioned but could maybe have been slicker but they all count and header or not the chances are England would go close or score in a couple more phases.
There is much to be positive about in England's attack, they are clearly working towards something and attacking structure takes time to build and implement. You're combining many different styles and training pitch to test matches is a big transition but also they are finding ways to fix the problems on the fly. Not always perfectly but it's there and it's getting better.
At present this attack isn't going to trouble many of the top 4 teams for any prolonged period of play. Teams like Ireland, France and South Africa will enjoy coming forward onto a defence going backwards and or laterally.
There are some key elements England needs to get right moving forward.
They have to generate forward momentum on the carry.
Soaking a phase up to reposition is fine, but you can't do it indefinitely and we saw they actually went backwards to attack. If they can regenerate forward momentum on the 2nd or 3rd phase then attacking play becomes so much easier.
It's very clear how important players Sinckler, George and Ford are to England's attack, but it's also very clear they are struggling to find a way to link this 1st Wave and a second wave behind lead runners. Farrell at 12 is the obvious choice here, but it's a role Tuilagi has run very well for England when Slade has lined up at 13 (Slade also a key to England's Multi Layered attack 2018-19) so there is huge potential to use Tuilagi as more than a battering ram.
Chile is a chance to build on what has gone before, and refine some of the difficulties they have experienced, it's also more importantly another chance for them to figure out how to fix it when it goes wrong.
Comments
comments